AmaMagna
AmaMagna is a newly built ship that is nearly twice the width of a traditional European river ship. The ship offers more in the way of dining and leisure options. The accommodation is spacious and most have balconies to relax on and admire the views. Dining options include The Chef's Table, the Main Restaurant, Jimmy's Wine Bar & Restaurant and the Al Fresco Restaurant. The sun deck has a swimming pool and whirlpool to enjoy, there's a fitness room to use and massages are available.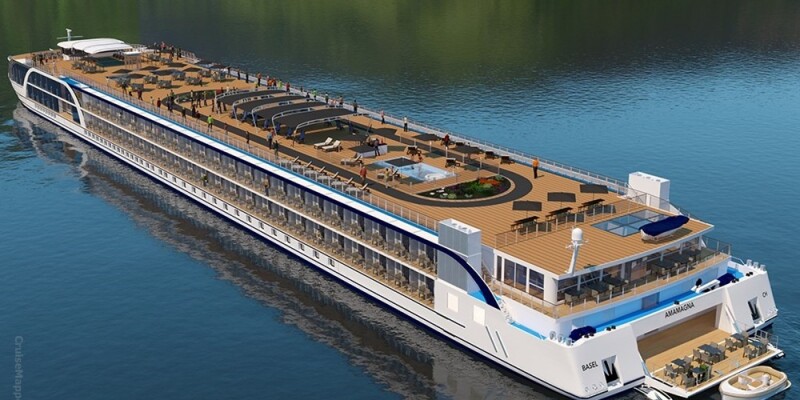 Accommodation
Accommodation on AmaMagna includes Cat AA Staterooms, Cat AB Staterooms, Cat D & E Staterooms, Cat SA Staterooms, Cat SB Staterooms, Cat OS Staterooms and Cat GS Staterooms.
Dining
Dining options on-board AmaMagna include The Chef's Table where you can enjoy watching the chefs prepare your food and the Main Restaurant where you can sit and enjoy a relaxed atmosphere whilst eating breakfast, lunch and dinner.
Enrichment
AmaWaterways takes great pride in crafting enticing shore excursions and pre- and post-cruise city tours with personable local guides. Their tours are designed to delve into the heart of each destination, visiting must-see landmarks as well as out of the way gems. Guests are allocated one of the state-of-the-art personal audio devices, which make it easy to hear every word of their guide's lively commentary. Whether it's part of a land program itinerary or a small group shore excursion, your AmaWaterways vacation will include a multitude of experiences that are entertaining, enriching and available exclusively to their guests.
Entertainment
AmaWaterways has very popular nightly entertainment with performances from local dancers and musicians.
Searching for the best deals?
From reduced fares to free flights, and from inclusive drinks packages to free onboard ship credit, we have access to the very best offers to enhance your cruise experience
Enquire now