Avalon Affinity
Accommodating a maximum of 138 passengers for an intimate cruise experience, the Avalon Affinity reflects the uniqueness of the rivers it cruises. On board, there are 65 generously sized staterooms and four Junior Suites, each equipped to hotel room standards. All suites and most staterooms feature floor-to-ceiling sliding glass windows, with a French balcony to enjoy the changing landscape from the comfort of your stateroom. With plenty of space to stroll, take photographs or simply sit and soak up the scenery, the Sky Deck also has a whirlpool bath, so you can take a soothing dip, relax and admire the views as you cruise. Guests have the use of a lift to access the staterooms.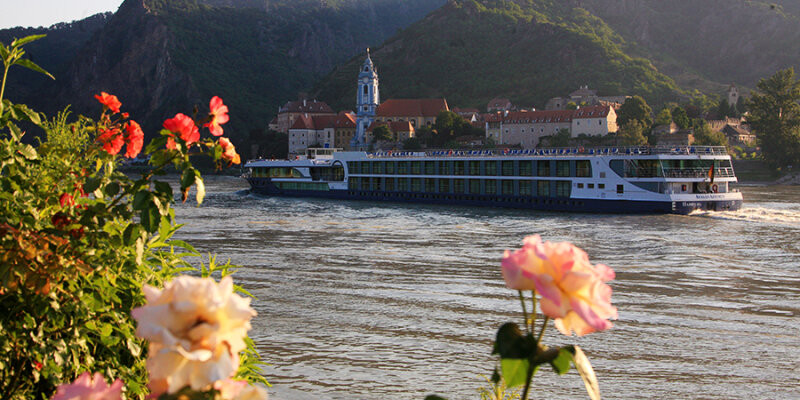 Accommodation
Accommodation on Avalon Affinity includes Deluxe Staterooms (Cat E), Panorama Suites (Cat P, A, B) and Royal Suites.
Dining
The main dining venue on the ship is the Dining Room where breakfast and lunch are served in the style of a buffet and dinner is a 4 course meal. The Sky Bistro offers stunning views while guests can enjoy a buffet of salads and homemade soups. Enjoy tapas style dishes and local wines at Panorama Bistro & Lounge. Room service is also available for continental breakfast and beverages.
Enrichment
Avalon Waterways know that no two travellers are alike so they don't assume all their guests will like the same activities and excursions. With more expertly led discovery options than any other river cruise line they make it possible for you to explore each port of call according to what intrigues you most.
Entertainment
There are many entertainment programmes on-board Avalon Affinity. Guests can enjoy the live music, on-board movies, artists and entertainers. Relax in the lounge and bistros with a glass of wine or a gin & tonic, or have a quiet moment with a cappuccino, taking in the views. There is use of the computers and laptops with complimentary Wi-Fi.
Searching for the best deals?
From reduced fares to free flights, and from inclusive drinks packages to free onboard ship credit, we have access to the very best offers to enhance your cruise experience
Enquire now