Avalon Scenery
Accommodating only 138 passengers in an elegant, contemporary design, the Scenery offers deluxe staterooms and suites-most with floor-to-ceiling sliding-glass doors and French balconies-with all the comforts you'd want and expect on a vacation to Europe. A host of popular on-board amenities further enhances the cruise experience, including three lounges and a bar, a complimentary Internet Corner and free Wi-Fi access throughout the ship, Sky Deck with whirlpool and Sky Bistro, elevator, hair salon, and Fitness Centre.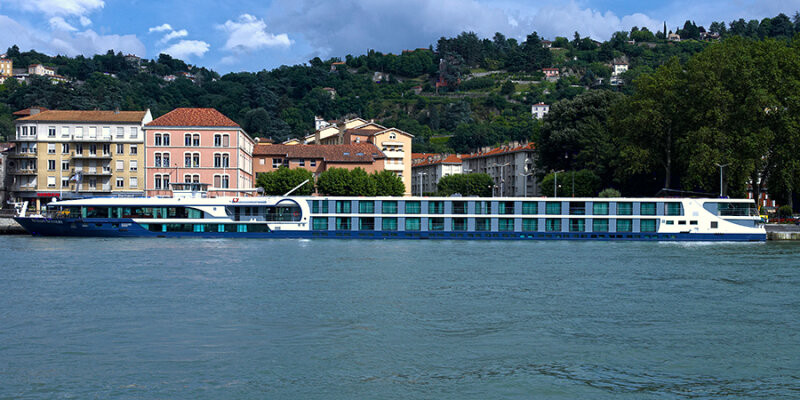 Accommodation
Accommodation on Avalon Scenery includes Avalon Suites, Deluxe Staterooms (Cat E) and Deluxe Staterooms (Cat P, A, B).
Dining
From the first bite to the last "Mmmmm," Avalon frees your tastebuds from the ordinary. At breakfast, lunch, and dinner, try mouthwatering recipes from the region through which you're traveling or more familiar Western dishes, if that's your preference. With Avalon, they make every meal part of the journey.
Enrichment
Avalon Waterways know that no two travellers are alike so they don't assume all their guests will like the same activities and excursions. With more expertly led discovery options than any other river cruise line they make it possible for you to explore each port of call according to what intrigues you most.
Entertainment
Avalon Waterways want your experience with them to be as rich as possible and have included everything that they know will be important to your cruise enjoyment.
With so many amenities on board, whether you are making the most of happy hour by enjoying a glass of wine or a gin and tonic in the lounge, or having a quiet moment in the Club Lounge with a cappuccino, there is plenty of space to stretch out and relax on an Avalon ship. Complimentary Wi-Fi access and free use of computers or laptops is available to help you stay in touch with friends and family. They've designed a cruise experience that includes all the right things...but still leaves room for your own preferences.
Searching for the best deals?
From reduced fares to free flights, and from inclusive drinks packages to free onboard ship credit, we have access to the very best offers to enhance your cruise experience
Enquire now